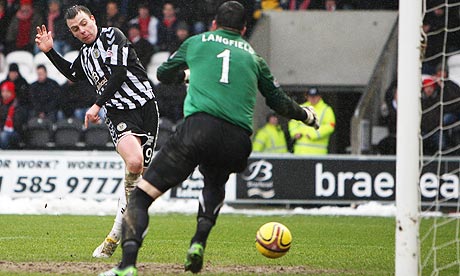 Aberdeen: Langfield, McNamee (McArdle, 13), Diamond, Vujadinovic, Considine, Magennis, Hartley, Milsom, Smith (Aluko, 71), Maguire, Vernon (Blackman, 63)
St. Mirren: Gallacher, van Zanten, Mair, Potter (Higdon, 60), McGregor, Travner, Muray, Thomson, Goodwin (Mclean, 67), Dargo (Mooy, 87), McGowan.
If ever there has been a match that sums up the bipolar nature of supporting Aberdeen it is this one. Despite being pumelled for large portions of the second half, Rory McArdle's last gasp equalizer earned the Dons the chance of a home replay next Wednesday, prompting euphoric scenes at the final whistle.
Craig Brown went for a slightly confusing team selection, with Chris Maguire returning to the starting line up after suspension, Josh Magennis earning a start after an impressive cameo on Monday night and Nikola Vujadinovic also coming in. Ryan Jack was rested while Sone Aluko and Derek Young dropped to the bench. Despite the presence of three centre backs and two full backs suggesting a 3-5-2 formation, Aberdeen actually lined up in a more orthodox 4-4-2 shape. Andrew Considine shifted to an unfamiliar left back position with Steven Smith on the left hand side of midfield and Josh Magennis on the opposite flank.
The formation worked fairly well in a drab and even first half. Man of glass David McNamee hobbled off in the early stages, replaced by Rory McArdle. Beyond that the first 45 minutes passed largely without incident. Steven Smith got up and down the left flank very well, compensating for Andy Considine's lack of natural attacking instincts. Despite this Considine actually had a solid match, growing in confidence as the game progressed and looking assured in possession. Sadly Scott Vernon and Chris Maguire's flourishing partnership looks to have stalled a little after two matches apart, they did not link up very well and Vernon looked starved of service. Maguire's return was a little disappointing after I built him up to near messianic status during his absence. He offered plenty of industry - causing what looked like hundreds of pounds worth of damage to St. Mirren's advertising hoardings - but little invention.
The second half started as drably as the first half ended but came to life after St. Mirren's top goalscorer Michael Higdon came on at the hour mark. An Aberdeen defence that had looked good up until that point suddenly fell apart, with Vujadinovic and Diamond getting dragged apart too often and Rory McArdle looking lost at right back. It was only Jamie Langfield's fantastic work in goal that prevented the Don's being on the wrong end of a drubbing, but even Langfield could not stop the Saints taking the lead after 77 minutes, following some typically shambolic Dons defending. While St. Mirren deserve their fair share of credit for some good attacking play, I would partially blame Craig Brown after some underwhelming substitutions. Nick Blackman is undoubtedly a hugely talented young man but does not have half the workrate of Scott Vernon. After he replaced the Dons top scorer Aberdeen tended to lack an outlet when on the break. While Aluko was very lively after coming on, without Steven Smith on the pitch the Dons also looked very vulnerable on the flanks.
Aberdeen gradually lost their shape as the minutes ticked by, with Vujadinovic seeming to realise that he is not a very good defender and trying his luck up front. Sone Aluko gave the team an injection of pace and skill that they had previously been lacking, which begs the question - why wasn't he starting? It was Aluko's good work on the right wing that led to Aberdeen's goal, earning a free kick. Paul Hartley caused havoc with one of his trademark deliveries before Rory McArdle took advantage of a goalmouth scramble, poking home with just 30 seconds left on the clock.
If I'm honest I was a quivering wreck for much of the second half and therefore not in a position to give any intelligent analysis on the subject. Despite this there are a few main conclusions that can be drawn from yesterdays match.
1. Brown should stop messing around with the team. While we looked ok in the first half it is frustrating to see our most talented player on the bench with others playing in unfamiliar positions. Save the experimenting for less important league fixtures.
2. McArdle and Considine should be given another shot at centre back together. In my opinion they have been our best two central defenders this season, I have a feeling that Diamond is in the team on reputation rather than merit - we have generally looked better without him this season. Vujadinovic is slightly more confusing. He has good pedigree and looks a talented player but seems to lack concentration and go walkabout too often for my liking.
3. Scott Vernon is knackered. He hasn't scored for a while and probably needs a rest. I would like to see him fit and raring to go for the replay - now is the time to give Blackman a proper go in his preferred position - up front, partnered by Chris Maguire. No excuses now.
4. No more playing centre backs at full back. I don't think I need to elaborate. Rory McArdle is a good centre back but looks awful playing at full back. Considine largely had a good game but I would rather see him in the middle.
5. Play Aluko. Even off form, when given the right service he is probably our most dangerous player. We can't afford to have someone as talented as him warming the bench.
A much better performance will be needed a week on Wednesday. With home advantage Aberdeen should go through but will need to be wary of complacency. We have been in an eerily similar position before and still managed to cock things up in spectacular fashion...
My Man of the Match: Jamie Langfield
Runner Up: Andrew Considine